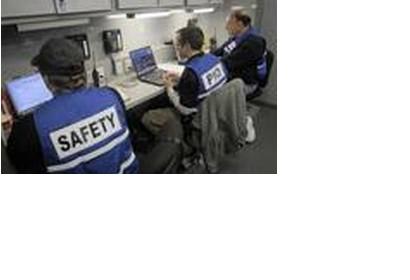 Brazil — As the state's largest natural disaster exercise unfolded Tuesday, the response tested the capabilities of emergency responders throughout the Wabash Valley.
"Damage, as they've predicted, is widespread, and resources are going to be tight," Darrel Zeck, public information officer for the All Hazards Incident Management Team, said of the drill.
Zeck participated as part of the command unit for District 7 of the Indiana Department of Homeland Security, which participated in the multi-state exercise to respond to a simulated magnitude 7.7 earthquake on the New Madrid fault line.
"As other countries were impacted down south, it has given us ideas of things that could happen to us as well," Zeck said. "Hospital overuse. River bridges being down. People stranded out of town." The mobile command center, a half-million-dollar vehicle equipped with satellite communications capability, was parked behind the Clay County Justice Center to simulate a 12-hour operational period. Inside, emergency responders from state and local agencies coordinated the response to situations in an eight-county district comprised of Clay, Greene, Owen, Parke, Putnam, Sullivan, Vermillion and Vigo counties.
"This is as close as they would want us to an incident where there is quite a bit of destruction," Zeck said, referring to Vigo and Sullivan counties, which are, in the simulation, hard hit by the quake, particularly an imagined 6.0 aftershock along the Wabash Valley fault line west of Vincennes in the Mt. Carmel area of eastern Illinois.
"Even here in Clay County, we have power outages and the phones are out," Zeck said of the disaster scenario.
That is why the mobile command center is a self-sustaining unit, capable of satellite communications and powered by its own generators. Inside, operations were commanded Tuesday by Bill Newgent, whose full-time job is as Greencastle Fire Chief, along with input from a team that includes Jeff Fox of the Vigo County Sheriff's Department and Jerry Sears, District 7 Emergency Management Coordinator for the Indiana Department of Homeland Security.
Each person on the District 7 team has real-world experience and training from Homeland Security on disaster responses, and goes through frequent training. The point of Tuesday's drill, which is actually part of a week-long exercise that includes other parts of Indiana and other states, was to see the strengths and weaknesses in the emergency response.
The command center received a satellite feed known as Web EOC, which shares information on disaster-related activities going around the state. Since the start of the disaster exercise, state agencies had been feeding information to the District 7 command center and setting certain objectives. The response and how those objectives were accomplished will be reviewed and evaluated later. "We can be working an incident within an incident, so to speak," Zeck said, "such as dispatching a response, but then finding out that a bridge is out and rerouting the response."
The district team also has developed connections to groups such as ham radio operators, small aircraft pilots for delivery and transport, and motorcycle clubs that can be runners for information and light supplies in areas where larger vehicles cannot travel.
Sears said it is also important for citizens to make sure their homes and families are prepared for a natural disaster, whether it is an earthquake, storm or manmade attack.
A flashlight, radio, bottled water, food for 72 hours, and activities such as a deck of cards to keep children occupied should be in every family's emergency kit. People who depend on prescription drugs, respirators and home dialysis should also have back-up supplies or know where they can go in case of emergency.
Each family should also have a plan of where to meet in case disaster strikes while family members are at work, school or elsewhere.
"A big part of this is how the community prepares itself," Sears said of the exercise.
"Preparation is good for anything that may take place," Zeck agreed of the public anticipating emergency situations.
If the Wabash Valley has another flood incident such as in 2008, a command center such as Tuesday's exercise will likely be set up to coordinate responses.
"We want to see each incident handled in a consistent way," Zeck said.