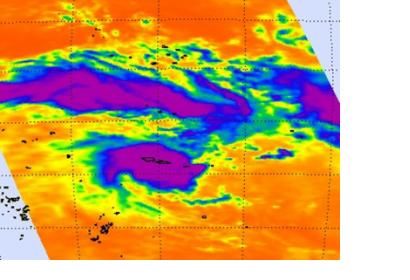 NASA satellites have been monitoring Tropical Cyclone Evan and providing data to forecasters who expected the storm to intensify. On Dec. 13, Evan had grown from a tropical storm into a cyclone as NASA satellites observed cloud formation, height and temperature, and rainfall rates.
The Tropical Rainfall Measuring Mission (TRMM) satellite passed above intensifying tropical storm Evan in the South Pacific Ocean on Dec. 11, 2012 at 1759 UTC (12:59 p.m. EST/U.S.). An analysis of Evan's rainfall from TRMM's Precipitation Radar (PR) and Microwave Imager (TMI) showed that Evan already had an eye-like structure at the time of that TRMM orbit. Evan would later develop an eye on Dec. 13.
NASA's Aqua satellite passed over Tropical Cyclone Evan after it had attained cyclone status on Dec. 13 and two instruments provided insight into what was happening with the storm.
The Moderate Resolution Imaging Spectroradiometer (MODIS) instrument aboard NASA's Aqua satellite captured a visible image of Tropical Cyclone Evan when it was directly over the Samoa Islands on Dec. 13 at 0105 UTC. Evan's maximum sustained winds had increased to 90 knots (103 mph/166.7 kph).
Two people had been killed by December 13, news reports said. Evan made landfall in Apia, prompting authorities to close the airport. The strong, slow-moving storm destroyed homes, downed trees, flooded rivers, and severed roads. It was perhaps the worst to strike Samoa in 20 years. Evan now continues towards the Fiji islands.