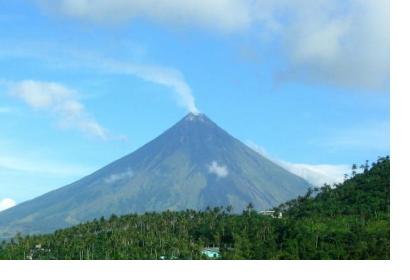 First disaster responders in the Philippines now have access to mobile satellite equipment that's more powerful and easier to deploy than ever before.
Since 2017, emergency responders have been working with communications company Inmarsat, the UK Space Agency and a consortium of NGO partners to institutionalize satellite communications into disaster response mechanisms in the country, which is regularly hit by natural disasters.
The Philippines is situated along the Pacific Ring of Fire, the Pacific Typhoon Belt, and the eastern seaboard of the Philippines, meaning the island nation is highly vulnerable to both geologic and meteorological hazards. On top of the 20 typhoons that strike the country each year, Mayon, one of the world's most active volcanoes, is located in the country and erupts approximately every four years.
Due to the frequency of natural disasters, disaster management and response in the country is regularly called upon. This requires coordination and communication between agencies in the field and government agencies in Manila for resources and policy decisions.
However, the entire archipelago of the Philippines suffers from an unreliable telecommunications and internet infrastructure. These realities hamper emergency communications and disaster risk reduction and management during all phases of a natural disaster.
Government officials identified the need for a dependable communications system that would allow them to enhance their situational awareness by fully understanding the scale of the disaster impact. To achieve this, first responders on the ground need a dependable communications system to the disaster management headquarters in Manilla.
Field offices are now operating mobile satellite communication equipment, which makes use of INMARSAT's Global Xpress system of satellites. Satellite terminals are part of a bottom-up approach meant to empower local governments and municipalities to better coordinate disaster response in their province. Global Xpress also provides a better means of communications between first responders and policy-makers, supporting them to make more informed decisions about resource allocation and disaster-related policy-decisions.
In the end, affected populations get help faster. Not only this but satellite communication helps evacuees and people in affected regions to communicate to have access to critical information and to contact their families. This is particularly important when the traditional infrastructure has been taken out by the disaster.
In a country so often impacted by natural disasters, satellite communication will continue to play a critical role in the disaster management process of the Philippines, by aiding communication to help policy-makers gain better situational awareness for improved resource allocation, supporting local populations have access to critical information, and have contact to their families.