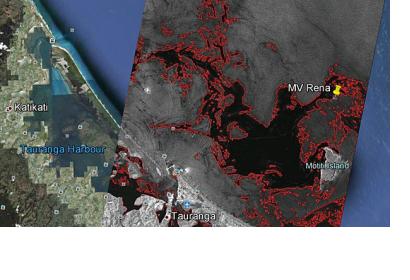 A new satellite image that shows the likely spread of oil from the Rena suggests things may be worse than many realise.
The satellite image was captured by DLR, the German Aerospace Centre, by its TerraSAR satellite on Friday and shows the likely spread of oil from the ship, which remains stuck on the Astrolabe Reef off the coast of Tauranga.
The ship has spilled more than 350 tonnes of oil since it struck the reef on October 5 and is expected to leak more with rough weather predicted later today.
The satellite image has been provided to Maritime New Zealand by the aerospace centre after it was requested by Venture Southland, which has been pushing for receivers for such images to be based at Awarua.
Venture enterprise projects manager Robin McNeill said the satellite sent a pulse to earth, which was reflected back to it and worked into an image.
It worked like an ordinary ship's radar, but more specialised and while it needed a trained professional to read it properly, it showed the disaster was worse than many people realised, he said.