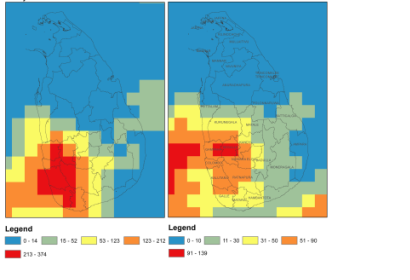 Data from NASA's Tropical Rainfall Measuring Mission (TRMM) revealed extraordinary flooding in Sri Lanka caused by unusually strong monsoonal rainfall over the period 31 May - 4 June 2014, as research at the International Water Management Institute (IWMI) shows.
The heavy monsoon precipitation occurred mainly in the Western and Southern Province of Sri Lanka. Massive flooding was reported in the districts of Kalutara, Ratnapura and in parts of Colombo, Galle and Matara. The accumulated rainfall was about 4 to 6 times as high as compared to the rainfall in the same period in 2013. For example, the Kalutara district received an average accumulated rainfall of 303mm from 31 May to 4 June 2014 - compared to 56mm in 2013.
The International Water Management Institute responded promptly to the disaster by identifying extreme floods in the region using flood-mapping tools. Giriraj Amarnath, Researcher – Remote Sensing and Water Resources at IWMI, used Satellite-derived Precipitation Estimates from the National Aeronautics and Space Administration (NASA)-based satellite Tropical Rainfall Measuring Mission to measure the intensity of the rainfall in the different districts in real time. He shared this information with the Sri Lankan Government's Disaster Management Centre (DMC), UN-OCHA (United Nations Office for the Coordination of Humanitarian Affairs), which is the UN's umbrella body for disaster relief, and the United Nations Office for Outer Space Affairs (UNOOSA), to help relief efforts.
"The TRMM satellite visits Sri Lanka every three hours, so we are able to provide immediate flood-impact information," explained Giriraj. "For instance, the flood map shows that the intensity of the rainfall in Kalutara District was six times higher this year when compared with last year's monsoonal rainfall. This information, when shared with humanitarian organizations, will increase their knowledge of the floods and help them to decide how best to provide disaster relief."