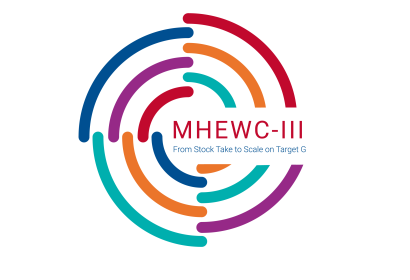 From Stock Take to Scale on Sendai Framework Target G: Accelerating the Knowledge and Practice of MHEWS for Risk Informed Resilience
Please visit the Global Platform for Disaster Risk Reduction website for the most complete and up-to-date information on the preparatory events, such as the Third Multi-Hazard Early Warning Conference (MHEWC-III).
The Conference will be held in a hybrid format in person in Bali, Indonesia, and online. It is open to all participants of the GP2022. Please register for the MHEWC-III here.
Due to limited availability of seating and space and COVID-19 restrictions, the organizers reserve the right to prioritize online participation. All sessions will be held in English. French and Spanish interpretation is offered.
To learn more about the Official Programme sessions, explore the Agenda.
Sendai Framework Mid-Point
A preparatory event of the GP2022 organized by the International Network for Multi-Hazard Early Warning Systems (IN-MHEWS)
As we approach the mid-point of the Sendai Framework for Disaster Risk Reduction, MHEWC-III provides a unique opportunity to review key accomplishments, share skills, experience, and expertise within an active network of early warning practitioners. The Conference will:
'Take stock' of progress in the implementation of Target G of the Sendai Framework and report on the latest trends in MHEWS design and results.
Identify gaps and challenges in practice, policy, and science to be addressed in future work.
Share knowledge, lessons learned, and emerging examples of good practices.
Initiate commitments for scaling-up action on early warnings and promote synergies and partnerships
The MHEWC-I: Saving Lives, Reducing Losses took place on 22-23 May 2017 in Cancún, Mexico, as a pre-event to the Fifth Session of the GPDRR (GP2017). The MHEWC-II took place in Geneva, Switzerland 13-14 May 2019 as a pre-event to the Sixth Session of the GPDRR (GP2019). The MHEWC-III builds on the progress and achievements of the first two conferences.
Conference Outcomes
The Expected Outputs of the MHEWC-III include the following:
Outcome statement to feed into GP2022 thematic session on early warnings and early action that puts forward recommendations to enable transformation for MHEWS enabling risk-informed early action to reduce impacts and losses
Roadmap/Agenda with strategic priorities, governance arrangements, and a joint work program for IN-MHEWS with updates and voluntary commitments by partners
Contribution to a stock take on progress in the implementation of Sendai Framework target G
Dissemination of methodologies and frameworks for assessing effectiveness of EWS/Target G custom indicators
Contribute to a validated Words into Action guide on Multi-Hazard Early Warning Systems
Poster Presentations
Call for Poster Submissions
The MHEWC-III invites interested parties, particularly from the following entities, to submit posters on early warning systems that enable early action to save lives and livelihoods:
National Meteorological and Hydrological Services (NMHSs)
Research and academia
Regional organizations
Civil protection agencies
The international community
Private sector entities
Other stakeholders
Posters will provide an opportunity for presenters to showcase their early warning initiatives. The best posters will be selected to be printed and showcased at the MHEWC-III in the Bali International Convention Center (BICC), Bali, Indonesia. Posters will also be showcased on the Conference website. Successful applicants will be invited to attend the poster session in person on 23 May 2022 and discuss the content of their posters with attendees during a Poster Session.
Visit https://globalplatform.undrr.org/multi-hazard-early-warning-conference-iii for more information.