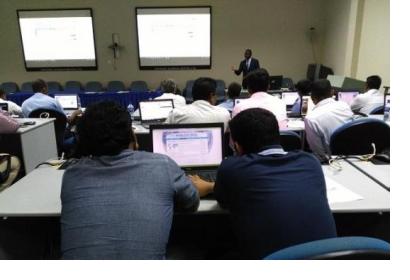 The Disaster Management Centre of Sri Lanka and UN-SPIDER began a three-day training workshop in Colombo to enhance the use of the UN-SPIDER Knowledge Portal. The training workshop will cover different sections of the Portal and will include an in-depth training on the Recommended Practices developed for floods and droughts. The trianing workshop brings together professional staff from the Disaster Management Centre,Ministry of Health, the Survey Department, the Census and Statistics Department, the National Aquatic Resources Agency, the University of Colombo, University of Moratuwa, Sri Lankan Army. Navy and Air Force, the Mahaweli Authority, the Coast Conservation Department, and the Arthur C. Clarke Centre for Modern Technology.
The training workshop will support the efforts conducted by the Disaster Management Centre in the areas of flood rapid mapping and drought early warning. Furthermore, it will contribute to the implementation of the Virtual Mapping Unit that the DMC is establishing as a way to conduct rapid mapping of areas affected by disasters triggered by different types of hazards.
The opening ceremony was presided by the Additional Director General of the Disaster Management Centre, Mr. R. Priyantha Samarakkody. In his opening remarks, the Additional Secretary General made reference to usefulness of geospatial information in the contexts of mitigation and emergency response. He commented that floods and droughts are recurring events in Sri Lanka and that the use of procedures elaborated by UN-SPIDER will facilitate the generation of relevant and timely information.