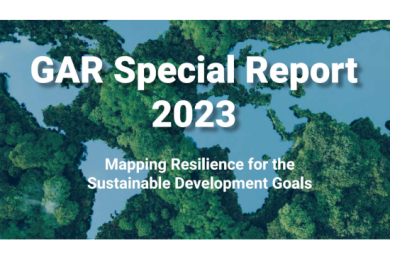 The United Nations Office for Disaster Risk Reduction (UNDRR) published a special edition of the Global Assessment Report (GAR 2023), showing how climate disasters are reversing global development at unprecedented rates. Social and economic advances are being undone by disasters and their knock-on effects on food security, employment and education.
Growing disaster risks and a confluence of shocks are creating domino effects across economies and undermining sustainable development on all fronts, according to this new report by the United Nations.
The GAR 2023 was released by UNDRR during the UN High-level Political Forum on Sustainable Development and finds hard-won economic and development gains are in danger from the growing number of disasters with global warming the prime contributor.
The report presents a new analysis mapping how disasters like drought are dramatically rising with knock effects on global food security, employment and education. Droughts have already resulted in two billion people now living under water stress and an 80% increase in the risk of crop failure and hunger in sub-Saharan Africa and South East Asia.
More information:
https://www.undrr.org/news/new-report-shows-climate-disasters-are-reversing-global-development-unprecedented-rates
https://www.undrr.org/gar/gar2023-special-report