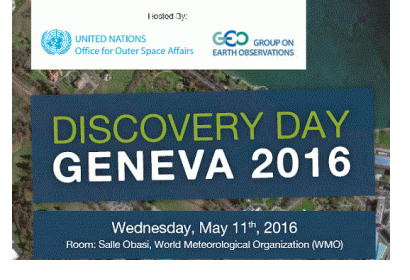 The United Nations Office for Outer Space Affairs (UNOOSA) and the Group of Earth Observations (GEO), with the support of DigitalGlobe, are organizing the Discovery Day 2016 meeting in Geneva on the 11th of May 2016 at the headquarters of the World Meteorological Organization. It will provide a high-level perspective on the benefits and applications of space-based imagery and space-derived geospatial information to monitor the effects of climate change, in environmental and natural resource management, and to respond to emergencies and crisis events.
The organizers will present how collaboration around the provision of VHR satellite imagery and geospatial analysis can support the work of various UN entities and other international organizations in implementing their respective mandates and how it can facilitate inter-agency coordination. DigitalGlobe will demonstrate state-of-the-art satellite Earth observation, including WorldView-3, launched into orbit on 13 August 2014, geospatial big data and crowdsourcing with applications considered relevant for the Geneva-based international organizations. The event is also an opportunity to identify opportunities of collaboration between GEO and United Nations entities.
Ms. Simonetta Di Pippo, Director of UNOOSA and a representative of the Office of the GEO Secretariat will open the event, which will also provide additional opportunities for bilateral or multi-lateral exchanges.
Discovery Day in Geneva marks the second of a series that started in Rome in December 2015 co-organized with FAO and UNECE. UNOOSA and DigitalGlobe are already working at future events in other United Nations key locations worldwide.