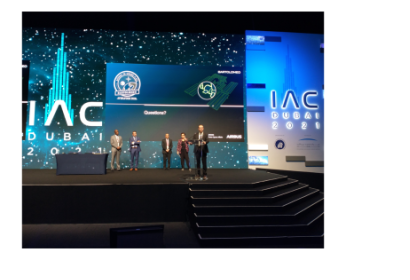 The International Astronautical Federation (IAF) held its 72nd International Astronautical Congress in Dubai, United Arab Emirates.  The congress, hosted by the Mohammed Bin Rashid Space Center (MBRSC), took place from 25 to 29 October 2021 and was held at the Dubai World Trade Centre. Like previous events, this congress included ceremonies, plenary events, technical and special sessions, highlight lectures, and other events.   Space agencies, private companies, and other stakeholders used the exhibition to present their achievements, ongoing efforts, and upcoming missions.
In addition, the congress was used by Airbus Defence and Space and UNOOSA to announce the winner of the free payload flight on the Bartolomeo platform developed and implemented by Airbus Defence and Space onboard the International Space Station (ISS).  This joint initiative of Airbus and UNOOSA is part of the Access to Space for All that was launched by UNOOSA a few years ago.  This partnership is contributing to the UN Sustainable Development Goals (SDGs) and exploring how space can help achieve the SDGs in practice.  More information on this event is available here.  More information on this joint initiative to access space with the ISS Bartolomeo platform if available here.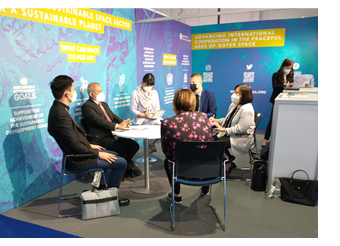 The Director of the Office, Ms. Simonetta Di Pippo, used the opportunity to participate in several high-level events, to meet with Directors of Space Agencies, and to sign several agreements.
As on previous occasions, the United Nations Office for Outer Space Affairs joined forces with the IAF to carry out the 28th Workshop on Space Technology for Socio-Economic Benefits on the theme "Space Exploration - A source of Inspiration, Innovation, and Discovery".  More information on this workshop is available here.  In addition, the Programme on Space Applications of the Office co-organized with the International Academy of Astronautics the 22nd workshop on small satellite programmes at the service of developing countries.   More information on this workshop is available here. 
Through its UN-SPIDER programme, UNOOSA made a presentation on its contribution to the International Charter Space and Major Disasters.  This presentation was made during the technical session on the 21st Anniversary of the Disaster Charter: History, Status, and Future of this Powerful and Productive International Cooperation.  More information on this session is available here.