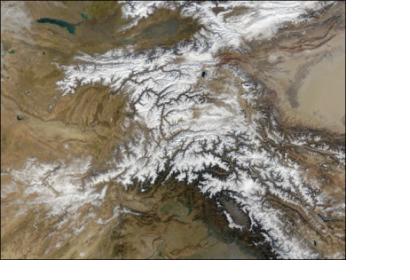 Dr. Rajiv Shah, Administrator of the US Agency for International Development (USAID), visited UN-SPIDER's Regional Support Office in Nepal – the International Centre for Integrated Mountain Development (ICIMOD) - to discuss the role of science and technology in monitoring the environment and in supporting the development of the region.
At the meeting, ICIMOD presented tools that have been developed as part of the joint venture initiative SERVIR (The Regional Visualization and Monitoring System) of NASA and USAID. In 2010, SERVIR began its partnership with ICIMOD to improve environmental and developmental decision-making in the Himalaya region. The tools developed include a Firest Fire Detection and Monitoring System for Nepal, as well as tools for Agricultural Monitoring to Support Food Security in the Eastern Himalayas, for Land Use and Land Cover Change for Nepal, and for Glacier and Alpine Hazards to Development and Habitation in the Hindu Kush Himalayan Region.
Dr Shah highlighted: "ICIMOD has shown how vital satellite information is to monitoring agricultural production, forest fires and responding to droughts and floods. Through partnerships like SERVIR, scientists will be able to use cutting-edge technologies to monitor complex challenges as they happen—helping to save lives and build more resilient communities."