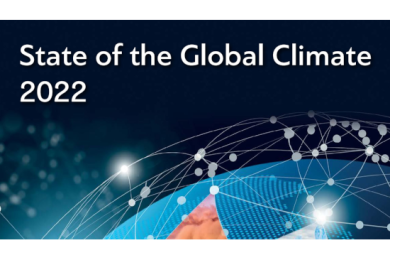 The World Meteorological Organization (WMO) has launched its "State of the Global Climate 2022" annual report on April 21, 2023. The report focuses on key climate indicators, such as greenhouse gases, sea level rise, temperatures, ocean heat and acidification, sea ice and glaciers, and highlights the impacts of climate change and exteme weather.
The State of Global Climate 2022 shows the planetary scale changes on land, in the atmosphere and in the ocean caused by record levels of heat-trapping greenhouse gases. For global temperature, 2015-2022 were the eight warmest years on record despite the cooling impact of a La Niña event for the past three years. Melting of glaciers and sea level rise - which again reached record levels in 2022 - will continue for up to thousands of years.
Some of the conclusions of the State of Global Climate 2022 are: Drought, floods and heatwaves affect large parts of the world and the costs are rising; Global mean temperatures for the past 8 years have been the highest on record; Sea level and ocean heat are at record levels – and this trend will continue for many centuries; Antarctic sea ice falls to lowest extent on record.
Furthermore, the new WMO report includes a story map which provides concise information for policy makers on how the climate change indicators are playing out. The story map also shows how improved technology makes the transition to renewable energy cheaper and more accessible than ever.
In addition to climate indicators, the State of Global Climate 2022 report focuses on impacts. Rising undernourishment has been exacerbated by the compound effects of hydrometeorological hazards and COVID-19, as well as protracted conflicts and violence. Moreover, hazardous climate and weather-related events drove new population displacement and worsened conditions for many of the 95 million people already living in displacement at the beginning of the year.
To read the full State of Global Climate 2022 report, click here.
To read more on the World Meteorological Organization, click here.