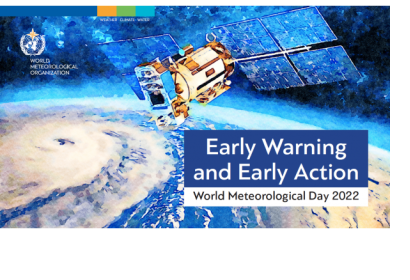 The United Nations sets an ambitious goal for adapting to climate change and increasingly severe weather. Everyone on Earth should be protected against more severe weather and climate change over the next five years, according to an ambitious new United Nations target published a few days ago.
UN Secretary-General António Guterres has charged the World Meteorological Organization (WMO) with leading the effort and presenting an action plan to accomplish this aim during this November's UN climate summit in Egypt.
The news came on the occasion of World Meteorological Day, which this year had the theme Early Warning and Early Action.
"Climate change induced by humans is now causing chaos in every region. The Intergovernmental Panel on Climate Change's most recent report reveals the suffering that has already occurred. Each degree of global warming adds to the frequency and intensity of extreme weather occurrences," Mr. Guterres said.
"We must invest in both adaptation and resilience in equal measure. This includes data that enables us to forecast storms, heatwaves, floods, and droughts," the UN head continued.
Over the last 50 years (1970-2019), an average of one weather, climate, or water-related disaster happened every day, killing 115 people and incurring US$ 202 million in damage daily, according to a 2021 WMO study on disaster data. The number of documented disasters grew by a factor of five, owing to human-induced climate change, more intense weather occurrences, and improved reporting.
"As a result of climate change, the increasing incidence of catastrophes jeopardizes the achievement of a significant number of Sustainable Development Goals. Apart from vital mitigation, it is becoming increasingly critical to invest in climate adaptation. Improved weather, water, and climate early warning systems, as well as associated monitoring infrastructures, provide one of the greatest returns on investments. There is a requirement to invest 1.5 billion dollars over the next five years to increase the quality of services and related infrastructures, particularly in LDC and SIDS nations," WMO Secretary-General Prof. Petteri Taalas said.
Image: World Meteorological Day 2022, © 2022 World Meteorological Organization (WMO)