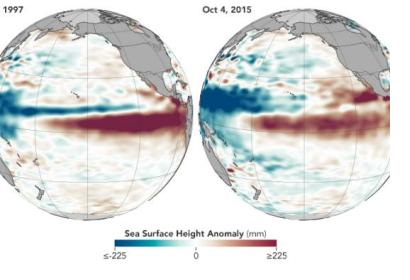 During a news conference in Geneva on 16 November 2015, the Secretary-General of the United Nations World Meteorological Organization (WMO), Mr. Michel Jarraud, commented that the "Severe droughts and devastating flooding being experienced throughout the tropics and sub-tropical zones bear the hallmarks of this El Niño, which is the strongest for more than 15 years." He further emphasized that "We are better prepared for this event than we have ever been in the past."
During the next months, El Niño is expected to strengthen to become one of the three strongest reported El Niño events within the last 65 years. Most affected countries are already taking national preparation efforts in agriculture, fisheries, water and health, as well as disaster management, to enlighten population, save lives, and to reduce the risk of economic damage, based on advice from National Meteorological and Hydrological Services.
The United Nations International Children's Fund (UNICEF) warned that 11 million children are at risk from hunger, disease and lack of water in eastern and southern Africa. Furthermore the United Nations World Food Programme (WFP) expects that another 2.3 million people in Central America will need food aid as El Niño exacerbates drought in this region of the world.
The impacts of this El Niño event will be felt in many regions of the world through coral bleaching in the United States and a more active tropical season in the western and eastern North Pacific basins. In South East Asia, El Niño intensified drought, further exacerbating wildfires in Indonesia. In South Asia, as well as in Southern Africa countries, there was less rainfall, which leads to food insecurity. Meanwhile in South America, El Niño is expected to increase rainfall.