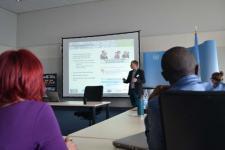 The project on Earth Observation Based Information Products for Drought Risk Reduction at the National Level (EvIDENz) conducted a workshop from 21 to 22 September at the United Nations Campus in Bonn to present its mid-term results. The event brought together project partners, scientists, policy-makers, practitioners and representatives of governmental institutions.
During the workshop, participants discussed information, knowledge and methods related to drought risk assessment and reduction strategies using the example of case studies in South Africa and Ukraine. More specifically, they focused on:
Assessing agricultural drought hazard and vulnerability to support the Sendai Framework for Disaster Risk Reduction 2015-2030 (Sendai Framework).
Quantifying drought risk to support assessment of the Sendai Framework targets "people affected" and "economic loss" and related indicators.
The workshop participants, which included experts from partner organizations in the project's case study countries South Africa and Ukraine, provided important feedback, to support adjusting the workplan for the remaining duration of the project.
Workshop presentations