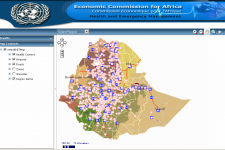 Africa is one of the regions most affected by disasters triggered by natural hazards. African countries are especially prone to events such as droughts, floods, landslides, volcanic eruptions and earthquakes impacting the economic development of nations and affecting the lives of people as well as their livelihoods. Events like droughts and floods are recurrent phenomena.
While some disasters cannot be avoided or prevented, their impact can be reduced or mitigated if relevant information and planning is in place. Information and Communication Technologies (ICTs) are vital to effective management of all phases of the disaster management cycle.
ICTs can be widely used to collect data and information to manage logistics during emergencies as well as to model and forecast disaster events. They help in developing knowledge and decision support tools for early warning, mitigation and response planning. Finally, ICTs also support the dissemination of information particularly for the communities at risk and for emergency responders.
Space-based technologies such as remote sensing, navigation systems, and satellite communications are key technologies for disaster risk management. Unfortunately, Africa still lacks capacities to use these systems for prevention, preparedness and monitoring of disasters.
The Geoinformation Systems and Sectoral Statistics Section of the United Nations Economic Commission for Africa (ECA) has long been promoting the use of space-based technologies and geospatial information in Africa. A part of ECA's efforts is focused on developing individual and infrastructural capacities, strengthening enabling environments across the continent, facilitating and promoting cooperation and networking, building spatial data infrastructures, and encouraging countries to incorporate disaster risk reduction into their national policies. In doing so, ECA focuses on the areas of data, capacity building and policies.
In the area of data, ECA has been developing authoritative geodatabases to meet different development goals. Among them are an e-health database to support preparedness, planning and operations for security and health-related emergencies and a climate change database to assess the impact of climate change, to measure the level of risk in vulnerable zones, and to map vulnerability in Africa.
With regard to capacity building, ECA has conducted different activities related to disaster risk management. For example, a seminar on "The Use of ICT for Disaster Risk Management and Climate Change Mitigation" was organized in Ethiopia in March 2013 to create awareness on disaster risk management and climate change mitigation among policymakers and to encourage countries to incorporate disaster risk reduction into their national policies. The workshop's participants resolved that governments must put in place policies on open data for accessibility and usability of disaster information.
In the policy sector, ECA has been providing assistance in the formulation and implementation of spatial data infrastructures as the appropriate mechanism for the production, management, dissemination, and use of spatial data and information products at the regional and national level for sustainable development.
Furthermore, ECA undertook and participated in various advisory missions. In particular, it has partnered with UN-SPIDER to carry out a Technical Advisory Mission to Malawi in October 2013. The aim of this mission was to assess the country's national capacity and existing policies and activities to use space-based technologies and space-based information for disaster risk reduction, disaster risk management and emergency response.
Read more: www.uneca.org