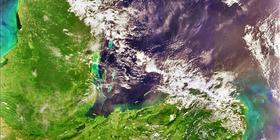 Juan Carlos Villagran de Leon, UN-SPIDER
The mission aimed at raising awareness of the Directors of various institutions on the benefits of using space-based information on disaster risk and disaster response management. It also addressed the recommendations made during a Technical Advisory Mission (TAM) one year earlier, which included the establishment of an inter-agency group of professionals working in various state institutions on the use of GIS and remote sensing.
The mission included visits to SEGEPLAN, to the National Geographic Institute (IGN), to the National Institute of Statistics (INE), the National Coordinating Agency for Disaster Reduction (CONRED) and to the Ministry of Environment and Natural Resources (MARN).
The mission was able to move forward the establishment of an inter-institutional group of professionals from a variety of Government agencies and universities, which will focus its attention on the use of satellite imagery and remote-sensing applications. The Directors of SEGEPLAN and IGN will institutionalize the technical group through a Memorandum of Understanding. The mission also allowed UN-SPIDER to take note of the comments made by the Minister of Environment and Natural Resources, who highlighted the importance of remote sensing applications and raised the question concerning how to improve access to space-based information to track vulnerability and to identify ways regarding adaptation to climate change. In addition, the Minister requested UN-SPIDER to explore how the Ministry could interact more effectively with UNOOSA on the topics of environmental management and climate change.