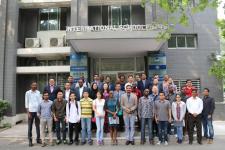 The training programme was focusing on how to monitor flood and drought disasters using space technologies. The experts from UN-SPIDER, the International Water Management Institute, the Iranian Space Agency and the National Disaster Reduction Centre of China contributed to this hands-on training programme, which was hosed in the Regional Centre for Space Science Technology Education in Asia and the Pacific (RCSSTEAP) based in Beihang University, Beijing.
The training covered topics included:
1) Fundamental Remote Sensing;
2) Flood mapping and monitoring;
3) Drought risk assessment;
4) Open-source Data and Products Acquisition;
5) Space-based Technology for Flood Monitoring and Emergency Response Mapping;
6) Drought Monitoring and Thematic Mapping Using RS & GIS. 
This training was an extended event back to back with the United Nations International Conference on Space-based Technologies for Disaster Management "Understanding Disaster Risk" which was successfully organized from 19 to 21 September 2016 and some participants stayed back after the conference to attend the training programme.
Host institution:
Title of training:
International Training Course on Space-based Technologies for Flood and Drought Monitoring and Risk Assessment
Trainers:
Experts from the National Disaster Reduction Center of China (NDRCC), the Iranian Space Agency (member of APSCO) and from the International Water Management Institute (IWMI) as a UN-SPIDER Regional Support Office . 
Target group:
A total of 30 participants from 19 countries' disaster management agencies and stakeholder departments participated in the training programme.
Training profile:
Trainees will gain skills to process satellite imagery to generate specific products useful in case of floods and droughts and for risk assessment.