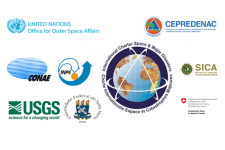 This regional training course is co-organized by UN-SPIDER, the Central American Coordination Centre for Natural Disaster Prevention (CEPREDENAC), and the International Charter Space and Major Disasters. The regional training course will address the procedures employed by the International Charter Space in case of activations, and the procedures and guidelines that project managers must follow when designated as project managers in case of activations of the International Charter
Curso de Entrenamiento "Gerencia de proyectos de la Carta Internacional Espacio y Grandes Desastres y Mapeo de zonas afectadas por inundaciones, sismos y deslizamientos con imágenes satelitales".
Experts from:
National Space Research Institute of Brazil (INPE)
National Commission on Space Activities of Argentina (CONAE)
United States Geological Survey (USGS)
Federal University of Santa Maria (UFSM) in its role as a UN-SPIDER Regional Support Office
Staff of national disaster management agencies of Costa Rica, Dominican Republic, El Salvador, Guatemala, Honduras, Mexico, Nicaragua, and Panama who are engaged in disaster response efforts. Professionals designated by national disaster management agencies of these countries who contribute actively to disaster response efforts.
Participants are expected to have experience in disaster response efforts, and on the use of geospatial information to coordinate disaster response efforts in national emergency operation centres. Participants should have skills in the use of geographic information systems and familiarity with space-based information.