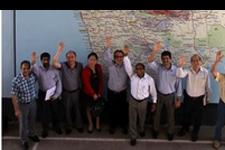 As a follow-up to the technical advisory mission (TAM) to Sri Lanka (17-21 October 2011), a four-day capacity-building training course was held. The expert team had listed in their TAM report a number of recommendations to the Government to strengthen disaster management using space-based information. One of the most important recommendations was to improve the capacity of national agencies in understanding the advances in space technology and its applications in hazard mapping.
Host institution:
Title of training:
Space Technology for Improving Hazard Mapping in Sri Lanka
Trainers:
10 experts from various organizations including United Nations agencies, regional organizations, national agencies and institutions led the technical sessions.
Target group:
25 participants involved in disaster management and hazard mapping in Sri Lanka participated representing the following agencies: Department Meteorology, Geological Survey and Mines Bureau, National Building Research Organization Coast Conservation Department, Department of Irrigation, Disaster Management Centre, Department of Survey and Mapping, Department of Agriculture, Department of Census and Statistics and Universities.
Training profile:
The course was jointly organized by the Disaster Management Centre of Sri Lanka (DMC) and UN-SPIDER, with support from Uva Wellassa University of Sri Lanka, UNDP in Sri Lanka and the National Disaster Reduction Centre of China (NDRCC). The broad objective of the training was to strengthen the capacity of the national agencies to use geo-spatial technologies for hazard mapping, hazard monitoring and risk assessments. Besides discussing the current state of use of space-based information for disaster management in Sri Lanka, the experts conveyed knowledge on the LiDAR Digital Evaluation Model, National Spatial Data Infrastructure for flood hazard mapping as well as knowledge on coastal hazard mapping, coastal zone management and integrated shoreline management plans. In addition, NDRCC donated HJ-1 satellite images of entire Sri Lanka and license-free image processing software which can be used by DMC and other organizations in Sri Lanka for hazard mapping as well as for natural resource mapping. The complete training report is available here.