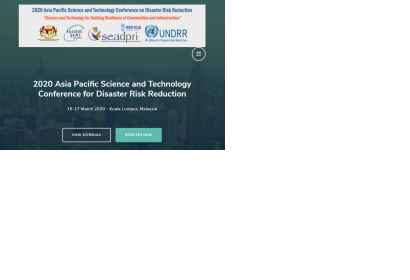 UN Office for Disaster Risk Reduction (UNDRR)
The National Disaster Management Agency (NADMA), the Academy of Science Malaysia (ASM), the Universiti Kebangsaan Malaysia's Southeast Asia Disaster Prevention Research Initiative (SEADPRI-UKM) and the IRDR International Centres of Excellence (ICoEs).
Mon, 16 Mar - Tue, 17 Mar 2020
The APSTCDRR 2020 aims to provide an opportunity to the science, technology, and academia community in Asia and the Pacific to continue the much-needed science-policy dialogue to ensure that implementation of disaster risk reduction measures is based on reliable science, technology and innovation. Successful applications of science and technology in preventing and mitigating risks from different types of hazards including flood, earthquake, drought, health and other climate related hazards will be showcased.
There will be a focus on the application of science, technology and innovation for local and inclusive action to build disaster resilience in the face of growing disaster risks and a changing climate. The application of science and innovation in the development or revision of national and local strategies to meet Target E of the Sendai Framework will also be highlighted. Opportunities will be provided to various organisations and stakeholders, in particular the young scientists, to learn and share on application of science and technology for DRR.
The Conference will:
Review progress on the outcome of the 2018 Asian Science and Technology Conference, against the revised S&T Global Roadmap
Review progress in the commitments made by the science, technology and academia community in the region, in particular, the Voluntary Action Statement made at the AMCDRR 2018 in preparation for the Asia Pacific Ministerial Conference on Disaster Risk Reduction (APMCDRR) 2020 in Australia and other Voluntary Commitments registered
Renew the commitments and promote development/revision of science-based national and local DRR strategies
Identify future work priorities for the Asia Pacific region
Share good practice in application of science and technology in disaster risk reduction.
The Kuala Lumpur Convention Centre (KLCC)