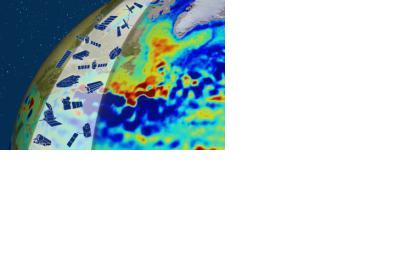 Co-Chairs: Jérôme Benveniste (ESA) and Pascal Bonnefond (Observatoire de Paris - SYRTE)
Members: S. Coutin-Faye (CNES), N. Bellefond (CNES), L. Amen (CNES), P. Ferrage (CNES), S. Cheli (ESA), R. Meisner (ESA), A.-L. Pichler (ESA Conference Bureau, Nikal) , F. Parisot (EUMETSAT), G. Kerrmann (EUMETSAT)
Mon, Sep 24 - Sat, Sep 29 2018
Following on from the "15 Years of Progress in Radar Altimetry" Symposium in 2006, and the "20 Years of Progress in Radar Altimetry" Symposium in 2012, both deemed a very successful landmark by the participants and the readership of the Proceedings, we have now reached the 25-year anniversary of the first supply of ERS-1 and TOPEX/Poseidon data products to the Altimetric Community.
To mark this occasion the European Space Agency (ESA), in collaboration with the French Space Agency (CNES), is organising an exceptional Symposium on "25 years of Progress in Radar Altimetry".
This event will be sponsored by other partner agencies and organisations supporting the development of altimetry.
The Symposium is open to all scientists with interest in radar altimetry. Contributors are required to submit a one-page abstract, which will be reviewed and selected by the Scientific Committee for keynote, introductory review, oral or poster presentation. Please consider your participation in this exceptional event and reserve the week from 24–29 September 2018 in your agenda.
Ponta Delgada, São Miguel Island, Azores Archipelago