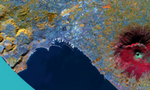 Wed, Apr 18 - Thu, Apr 19 2018
The event is planned as a marketplace that will enable knowledge transfer between technology experts, service providers and manufacturers as well as users from selected application fields. The goal is to stimulate the development and marketing of new "Copernicus"-related products, services and solutions. The event will build on findings and experience from the German technology network "CopServ" and aims to transfer valuable technological know-how to European level in the framework of the EEN.
Application fields at the focus of the event will be renewable energies/energy economy, maritime technologies, mining/post-mining, agriculture/forestry and urban monitoring/smart cities. The event addresses specialists and executives as well as development engineers from the application fields and defined technology branches along the entire value chain.
Georg Agricola University of Applied Sciences (THGA)