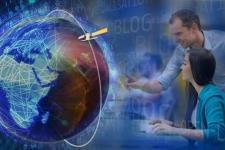 The European Space Agency (ESA) 
Mon, Sep 9 - Fri, Sep 13 2019
The European Space Agency (ESA) is organising a Φ-week event focusing on EO Open Science and FutureEO - to review the latest developments in Open Science trends.
The Φ-week will include a variety of events (e.g. inspiring talks, workshops, roundtables, startup pitch, hackathons) to connect multi-disciplinary communities - from EO researchers, data scientists, non-space corporates, tech leaders, entrepreneurs, up to startup and innovators - to explore together how EO Open Science and innovation can benefit from the latest digital technologies and help shape FutureEO missions and services.
The event will help you to:
Gain insight into the latest trends in EO Open Science New Space, and the impact of new technologies such as AI and blockchain on space and FutureEO,
Connect and Network with the new ecosystem of space including scientists, innovators, corporate leaders, startups and investors,
Discover from keynote speakers about the latest trends in tech and space,
Learn about a wide range of topics, ranging from Open EO Science to AI, blockchain, AR/VR, and their applications across industries,
Innovate by bringing your idea to the discussion regarding the future evolution of EO.
Objectives
Explore the latest applications of transformative technologies affecting Science Innovation and FutureEO missions and services
Connect with innovation ecosystems and emerging EO players, including for example data scientists, deep tech innovators, large ICT corporates and startups
Gather and foster emerging EO Open Science communities
Inspire early career scientists, entrepreneurs, citizens and dreamers by showcasing the scientific and business opportunities related to Open Science and FutureEO
Partner with new players by fostering new collaboration across disciplines.
The conference is open to: - Scientists, educators, developers and students working in the fields covered by EO Science, - Representatives from National, European and International space and value adding industry interested in the new EO Science approach and activities. - EO start-up The working language of the conference is English. No participation fees will be charged. Participants are expected to finance their own travel and accommodation expenses.
ESA's Centre for Earth Observation (ESRIN)