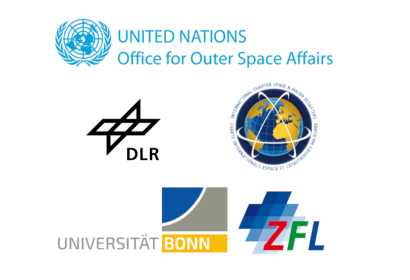 German Aerospace Center (DLR)
International Charter Space & Major Disasters
Center for Remote Sensing of Land Surface (ZFL), University of Bonn
UNOOSA / UN-SPIDER
European Space Agency (ESA)
Terradue
ARGANS
Tue, 18 Jul - Thu, 20 Jul 2023
In November 2000, several space agencies joined forces to establish the International Charter "Space and Major Disasters". The International Charter has been set up as a worldwide collaboration through which products generated from satellite imagery are made available free of charge to those responding to disasters in any region of the world. By combining Earth observation assets from different space agencies, the Charter allows resources and expertise to be coordinated. Since it was launched, the Charter has been activated more than 800 times to contribute to disaster response efforts.
During activations, the members of the International Charter provide access to satellite imagery that is processed by Project Managers and Value-Added Providers (PMs & VAs) to generate useful and timely space-based information to be used in disaster response efforts. In the year 2022, the Charter introduced a new tool: the ESA Charter Mapper, to support PMs & VAs in the processing of satellite imagery in the cloud. The Charter Mapper can speed up the generation of space-based information by PMs & VAs. This can be especially useful for users in developing countries who may be facing challenges related to low internet bandwidths and limitations with computing power.
In recent years, UN-SPIDER has joined forces with the International Charter Space and Major Disasters to incorporate professionals from developing countries as PMs & VAs. Together, UN-SPIDER and the International Charter have organized training workshops for PMs & VAs. These trainings allowed them to learn about the internal working procedures established by the International Charter in case of activations.
Recognizing the need to enhance the skills of PMs & VAs engaged in activations, UN-SPIDER, the International Charter Space and Major Disasters, the German Aerospace Centre (DLR) and the Center for Remote Sensing of Land Surfaces (ZFL) of the University of Bonn joined forces to organize the "UN-SPIDER/DLR/International Charter/ZFL International Workshop: Use of the ESA Charter Mapper during Activations". The workshop was held in the UN Campus in Bonn, Germany, from 18 to 20 July 2023, and brought together fifteen PMs & VAs from Algeria, Belarus, Colombia, Eswatini, Ethiopia, Germany, Madagascar, Nigeria, Sri Lanka, and South Africa, as well as the Doctors without Borders NGO.
Access the full report here.