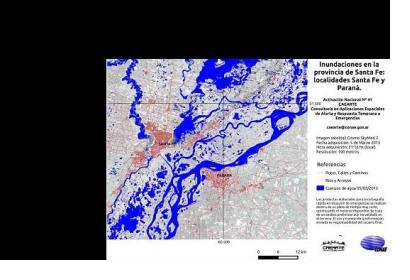 The Argentinean National Space Activities Commission (CONAE) has been producing information about recent floods based on radar satellite images. In March, the provinces of Santa Fe and Santiago del Estero suffered from intense floods.
Satellite imagery of the affected areas has served as support for the efforts of national institutions and organisms to mitigate the damages. The imagery was obtained from the Italian Cosmo SkyMed mission as well as from Landsat and SPOT5 satellites.
According to the newspaper La Nación, the floods in Santa Fe and Santiago del Estero were caused by an unusual amount of rainfall in the central area of the country that forced more than 5000 to evacuate and killed 10. It also caused a collapse of the vital infrastructures and daily activities. The rural areas are the most affected with more than 500,000 hectares of crops destroyed.
According to an article in La Nación, experts agree that climate change is one of the main explanations for this increasing rainfall, but take also into consideration the lack of strong infrastructures, the effects of monoculture and the inclusion of non autochthonous flora, among other factors.
The satellite-based maps are available on CONAE's website.