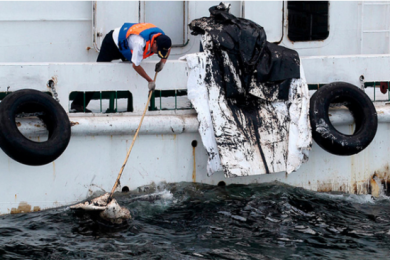 China launched a new satellite on 7 September which aims to assist in the forecasting and monitoring of marine disasters.
The HY-1C satellite was put into orbit via a Long March-2C rocket which lifted off from the Taiyuan Satellite Launch Centre in northern China.
The satellite's overall aim is to improve understanding of marine waters by monitoring ocean colour and water temperatures, providing crucial data on the global oceanic environment.
In terms of disasters, the HY-1C satellite aims to improve China's ability to predict, monitor and evaluate marine-based risks including storm surges, red tides, sea ice and large waves. This improved early-warning capability seeks to save lives and protect property. The data will also feed into marine disaster relief efforts; for instance when oil spills occur.
"The satellite carries an imager to [examine] suspended sediment in estuaries and harbours in coastal zones, and to forecast and monitor marine environmental disasters," said Wang Lili, chief designer of the satellite.
The satellite's data will also be used for the survey of the overall environment in China's offshore waters, islands and coastal zones as well as for the management of resources contained therein. Scientists will be able to utilize the data from the satellite to study climate change, the role of the oceans in the global carbon cycle as well as the El Niño phenomenon.
The HY-1C satellite has an expected lifespan of five years. China launched its first marine satellite, HY-1A, in 2002, laying the foundation for the country's ocean monitoring system. The HY-1B satellite was then launched in 2007. The HY-1D satellite, planned to be put into orbit in 2019, is expected to further improve China's marine-based remote sensing capability.
This article was contributed by Jack Kavanagh, UN Online Volunteer mobilized through www.onlinevolunteering.org.