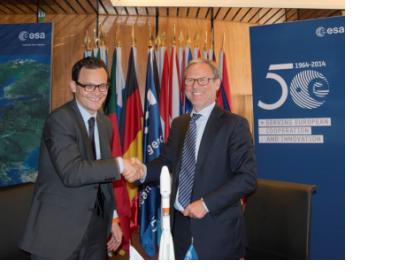 On 17 July 2014, representatives of ESA and Arianespace met in ESA's headquarters in Paris to sign a contract to build the Sentinel-1B satellite scheduled. Sentinel-1B is to be launched from the European Space Port in French Guiana in early 2016 to join its sister satellite Sentinal-1A as a dual satellite constellation orbiting Earth 180° apart providing complete coverage of the planet every six days. Sentinel-1B will be a key part of the largest environmental monitoring effort on the planet through ESA's Copernicus programme.
The Sentinel-1 platform carries out its mission to provide fast response to emergency and disaster situations using advanced radar to scan and monitor the Earth's surface regardless of time of day or weather conditions.
"With the launch contract now in place, we can now look forward to having both satellites in orbit to complete the mission configuration." said Prof Liebig ESA Director of Earth Observation Programs.