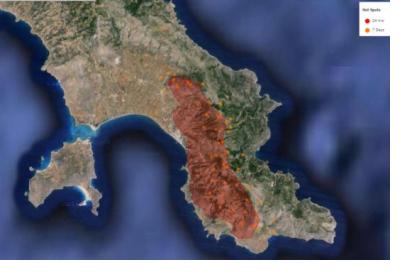 The European Forest Fire Information System (EFFIS) has helped bringing under control the forest fires that affected Greece on July 17. The EU Emergency Response Coordination Centre (ERCC) used EFFIS to mitigate the effects of the wildfires after Greece activated the EU Civil Protection Mechanism.
Immediately following the activation, France sent two Canadair firefighting planes and a reconnaissance aircraft to combat the almost 80 separate wildfires in Greece, located from the island of Evia, northeast of Athens, to the southern Peloponnese. This reaction was based on the agreement of cooperation in disaster response among 33 European states coordinated by the EU Civil Protection Mechanism, managed by the European Commission through the ERCC.
The ERCC is on charge of monitoring large fires occurring in Europe through satellite imagery and tools such as EFFIS, which provides information of the damaging effects of fires in near real-time and fire danger forecast over the next seven days in Europe, the Middle East and North Africa since 2000.