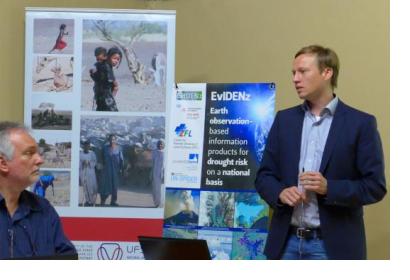 The partners of the EvIDENz project conducted the stakeholder workshop entitled "Earth observation-based information products for drought risk on a national basis". The workshop was conducted in East London, South Africa, from 2 to 3 November 2016. Partners involved in the organization of the workshop included DiMTEC of the University of the Free State (UFS), the Remote Sensing Center (ZFL) of the University of Bonn, UNU-EHS, and UN-SPIDER.
The EvIDENz project targets drought, as it is the major and most common natural disaster in South Africa, affecting hundreds of people and leaving considerable economical loss every year. The goal of the EviDENz project is to develop innovative methods and appropriate means of communication to allow Earth observation-based information provision to meet the goals established in conventions and frameworks, targets and indicators as well as the stakeholders' needs at national levels.
The workshop was attended by 20 regional and local key stakeholders from South Africa involved in disaster risk reduction like the National Disaster Management Center, the Disaster Management Training and Education Center for Africa, the Agricultural Research Council (ARC) and farmers. By bringing together a small and effective group, the workshop promoted the discussion about the contribution of EvIDENz project to drought monitoring, vulnerability and impact assessment as well as to Sendai framework reporting tasks.
The workshop agenda included presentations, as well as discussions and overviews about the EvIDENz's work plan and details, drought risk management, international conventions like the Sendai framework and Earth observation.