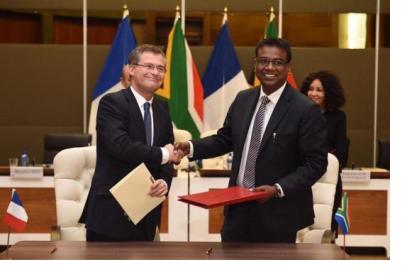 The National Centre for Space Studies (CNES) and the South African National Space Agency (SANSA) have signed an agreement that paths the way for future joint space projects between the two countries. The agreement was signed in the presence of France's Minister of Europe and Foreign Affairs Jean-Yves Le Drian, and South Africa's Minister of International Relations and Cooperation, Lindiwe Sisulu.
The agreement targets the following areas of cooperation: space operations, space science, Earth observation, telecommunications, applications, research and technology. The two agencies will also coordinate on international regulatory matters, the Space Climate Observatory (SCO), the International Charter "Space and Major Disasters" and the training of engineers.
The agreement, which supports the development of space technology within South Africa, aims to consolidate both French industry and France's position among pan-African space players.
In recent years, South Africa has fostered the development of its space sector and has already launched three micro- and nanosatellites. Pretoria has financed several Earth observation projects, including the development of a 350 kg satellite and a future constellation of ocean-monitoring nanosatellites, within the Maritime Domain Awareness (MDA) satellite programme that makes use of space technology to monitor South Africa's marine environment, including natural hazards such as harmful algal blooms (HAB). The production of a second constellation dedicated to forest fire detection is now underway.
The agreement represents the last step in a stable and fruitful cooperation between the two countries: in 2013, the French South African Institute of Technology (F'SATI) and its Cape Town branch at the Cape Peninsula University of Technology (CPUT) were commissioned to produce South Africa's first ever CubeSat.