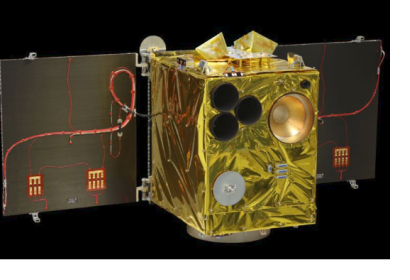 Optical transmission techniques are considered to be the most effective way to transmit the significant amounts of data obtained day after day from Earth observation satellites to the ground for analysis. With a small test satellite, a corresponding data transmission via laser has now been successfully tested by the German Aerospace Center (DLR) and the University of Stuttgart.
Earth observation satellites are used for many different tasks, which requires very large amounts of data to be transmitted from the satellite to the ground for evaluation. Today's radio systems are reaching their limits in this area. Optical transmission, however, provides the ability to send data at a much higher rate. The Optical Space Infrared Downlink System (OSIRIS), a laser communications terminal designed and tested by the German Aerospace Centre (DLR), is compact, power efficient and light, weighing only 1.3 kg. The terminal is located on board the "Flying Laptop", a small satellite developed by the University of Stuttgart, which also includes a high-resolution camera.
The "Flying Laptop", launched from Baikonur, Kazakhstan, in 2017, was developed and built by students and doctoral candidates as part of the Small Satellite Program at the Institute of Space Systems. The programme was initiated by Hans-Peter Röser and supported by experts from space research and industry. The operation of the satellite and the scientific evaluation of the data are funded by a grant from the Baden-Württemberg Ministry of Science, Research and the Arts.
Experiments have been operating since Summer 2018, with successful transmission tests being carried out on the optical ground stations of the DLR in Oberpfaffenhofen. The laser beam of the small satellite "Flying Laptop" was received from several hundred kilometers away on the ground, confirmed in a measurement campaign in March 2019.
Florian David, Deputy Director of the DLR Institute of Communications and Navigation said:"The power of optical communications will make it possible to, for example, make far larger amounts of data available to rescue workers on the ground during disaster recovery operations. For this reason, optical communications is a key area of our research."
After the first successful transmission tests, the research teams in Stuttgart and Oberpfaffenhofen now want to carry out numerous further experiments with OSIRIS on the "Flying Laptop", such as the reception of mission data and the measurement of the transmission channel. The experiments will continue in Oberpfaffenhofen from spring 2019.