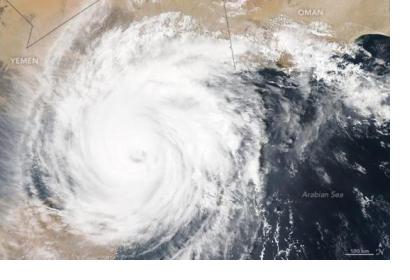 The International Charter Space and Major Disasters has been activated to provide satellite-based emergency maps to local authorities in charge of response operations after Cyclone Chapala made landfall on 3 November 2015. The cyclone triggered storm surges, heavy rain, and flooding in coastal areas in Yemen. The request for activation was elevated to the Charter by UNITAR/UNOSAT on behalf of UNOCHA.
Chapala is the strongest reported storm in Yemen's recent history, representing a category four hurricane with "catastrophic damage" potential. Already on 1 November, Chapala caused three casualties on the island of Socotra before heading towards the mainland of Yemen.
On November 3, Chapala made landfall in the Hadramaut region. Residents were ordered to evacuate, but the ongoing civil conflict in Yemen complicated evacuation processes and disaster response. In the city of Mukalla, houses and power lines were destroyed. Furthermore, the city faced severe flooding, causing residents to find shelter in more buildings at higher elevations.
The Shabwah and Hadramaut regions are expected to experience the strongest amount of flooding. Overall, estimates suppose that a million Yemeni people will be affected by Chapala, supplementary to the 40,000 people which have been evacuated or displaced.