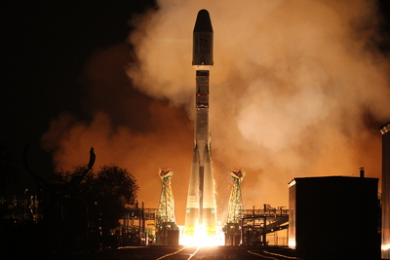 The second Metop satellite was launched yesterday, 17 September 2012 from the Baikonur cosmodrome, in Kazakhstan, atop a Russian Soyuz launcher, as planned. Metop-B will ensure the continuity of the weather and atmospheric monitoring service provided by its predecessor Metop-A, which has been circling the globe from pole to pole, 14 times a day, since 2006 and has now exceeded its design lifetime. The Soyuz-Fregat vehicle lifted off at 16:28 GMT on Monday, 17 September. The Fregat upper stage manoeuvred to release the satellite into a polar orbit at an altitude of 810 km some 69 minutes later, over the Kerguelen Archipelago, in the Indian Ocean. Metop-B, developed for EUMETSAT's polar satellite system, is now under the control of ESA's Operations Centre in Darmstadt, Germany.
ESA's Director General Jean-Jacques Dordain states "This is a perfect illustration of the vitality of Europe's weather satellite programmes developed in cooperation between ESA and EUMETSAT. The fact that the next generation satellites in line are already being prepared by ESA shows the strong commitment of Member States of both organisations to continue and improve collecting data that are supporting not only weather-forecasting but also monitoring and understanding of climate change. Such services are demonstrating daily the economical and societal value of investing in space infrastructure."
In 2013, ESA will start launching Sentinel satellites to monitor our environment and climate under the Global Monitoring for Environment & Security (GMES) initiative with the European Commission.