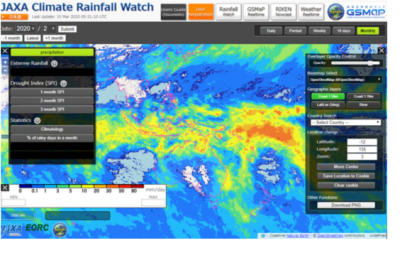 The Japan Aerospace Exploration Agency (JAXA) has released the JAXA Climate Rainfall Watch website to monitor extreme weather and climate over the world. The website provides hourly global measurements of precipitation as well as forecasts about heavy rainfall and drought in different temporal scales (daily, pentad, weekly, 10-days and monthly). The satellite-based global rainfall maps produce highly accurate measurements that can help better understand the changing climate, improve forecasts of extreme weather events, such as floods and droughts, minimize their damage and strengthen early warning systems.
The Climate Rainfall Watch website monitors heavy rainfall and drought in near-real-time and collects and stores data from previous months. The website calculates rainfall in percentile: heavy rain is indicated by large percentile value and displayed in dark pink color. The website also monitors drought using the Standardized Precipitation Index (SPI), an index that evaluates soil moisture, groundwater and reservoir storage using only the precipitation amount. In this case, severe and extreme drought is displayed by larger negative values in red color. To access the Climate Rainfall Watch website, click here. For more information about the website, visit this page.
JAXA has been addressing global precipitation-related issues under the Global Precipitation Measurement (GPM) Mission, whose aim is to conduct highly accurate, hourly and global rain and snow measurements using satellite data. The mission, which is led by JAXA and NASA, and conducted in cooperation with NOAA, CNES, ISRO, and EUMETSAT, is composed of one core satellite and approximately eight constellation satellites. The core-satellite carries a 3D precipitation product called Dual-frequency Precipitation Radar (DPR) and a microwave radiometer; whereas the constellation satellites carry microwave imagers and sounders. The DPR, onboard the GPM Core Observatory, analyses the information provided by the constellation satellites by acting as a reference standard. The DPR observes any rainfall from heavy rain to light rain by using two different radio frequencies that analyze the three-dimensional structure of the precipitation. It is also able to collect data about light rain caused by the extra-tropical cyclone zone in the mid-to-high latitudes, which could not be observed previously.
Under the GPM Mission, JAXA provides other tools to measure weather events. The JAXA Global Rainfall Watch System, for example, produces hourly global rainfall map data in 0.1-degree grid resolution and disseminates it four hours after observation. The algorithms are based on the achievement of the Global Satellite Mapping for Precipitation (GSMaP) project, which combined observation data from microwave and infrared radiometers aboard multiple satellites.
The JAXA Realtime Rainfall Watch website monitors current precipitation distribution, by combining rainfall estimates from multi microwave radiometers and estimates of movement of rainy areas by geostationary satellites' Infrared imagers. It provides near-real-time precipitation information and is updated every 30 minutes. For accessing the hourly-based GSMaP rainfall map, click here.
The GSMaP RIKEN Nowcast (GSMaP_RNC) website provides precipitation forecasts 6 hours in advance using hourly-updated global precipitation data based on satellite observation. JAXA distributes GSMaP RNC binary data generated by RIKEN. To access the website, click here.