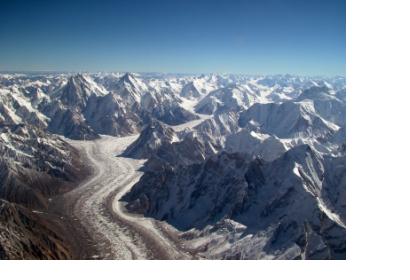 Pakistan is expanding its glacier monitoring network into the higher Himalayas to better assess climate change impacts in the upper Indus basin and related flood hazards. The International Centre for Integrated Mountain Development (ICIMOD), Kathmandu, helped the Pakistan Meteorological Department (PMD) establish on 10 June the country's highest automatic weather monitoring station, costing US$ 20,000, at 4,500 metres above sea level.
Pakistan's permanent representative to the United Nations, Abdullah Hussain Haroon, informed the UN Security Council last month of the threat posed by climate change to his country. "Pakistan's vast glacial area covers around 15,000 square kilometres, which are in rapid retreat. The rate of glacial recession, which has gone up by 23 per cent in the previous decade, is faster than in any other part of the world," Haroon was quoted as saying in a government release dated 21 July.
The new station will help gather data on temperature, humidity, precipitation, pressure, solar radiation and wind speed and direction, PMD director-general Arif Mahmood told SciDev.Net. It will help compare glacier melt in the Hindu–Kush–Himalayan range, and changes in seasonal snowfall accumulation. The station, located between the Passu and Batura glaciers, will add to data gathered from a monitoring station at 3,200 metres set up in 2010 by PMD at the lower end of the Passu glacier. Ghulam Rasul, chief meteorologist at PMD said the Passu glacier, which has an estimated 10.89 cubic kilometres of ice, retreated 25 metres over the past year.
Pakistan has so far relied on images from Chinese and Japanese remote sensing satellites to study glaciers. Rasul said that although satellites offer inputs from inaccessible terrain, the data sometimes do not match ground observations. The new weather monitoring system would help real-time measurements from the ground. ICIMOD's regional programme coordinator in Pakistan, Chaudhry Inayatullah, said the institute would help Pakistan "fill the technological gap for assessing glaciers, their melting rates and build technical capacity and knowhow for monitoring snow, ice, and water resources". ICIMOD has provided Pakistan with geographical information systems, computer technologies and equipment to monitor the Passu glacier and river water flows for improved planning and policies on water management, floods and droughts, Inayatullah said.
Information obtained through the glacier monitoring technology can be used for "averting flash flood risks and efficient water resource management for irrigation and domestic uses," said Ghazanfar Ali, a glaciologist at the Global Change Impact Studies Centre in Islamabad.