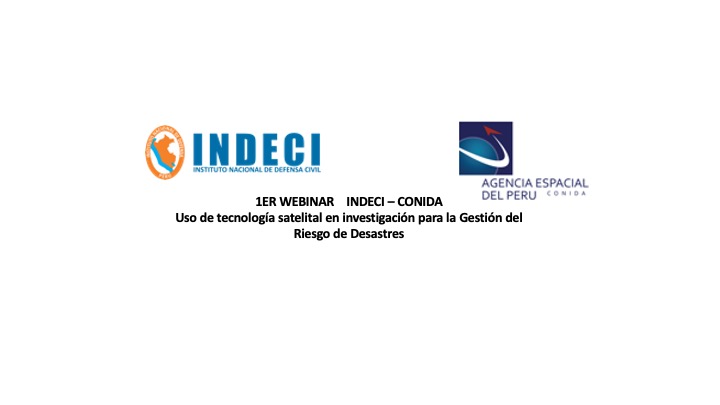 Like many countries in Latin America, Peru is exposed to a variety of natural hazards that have triggered disasters in previous decades.   Disaster preparedness, response and recovery efforts are coordinated by the National Civil Defense Institute (INDECI).   In recent years, INDECI has benefited from the advisory support provided by Peru's National Commission for Aerospace Research and Development (CONIDA).  Taking advantage of this advisory support, INDECI developed and launched at the end of 2018 its Agenda for Applied Research for the period between 2018 and 2021, addressing the preparedness, risk, and recovery phases of disaster management. More information on this agenda is available here.
The research agenda recognizes the usefulness of applied research to increase the institutional capacity to respond faster and more efficiently in case of disasters, and in supporting improved reconstruction strategies/efforts.  The overall aim is to enhance the resilience of the population exposed to hazards. One of the target areas included in this agenda is the use of Earth observation technologies to generate more precise geospatial information with respect to events triggering disasters, in order to improve situational awareness and to contribute to a more timely and efficient response.
As part of the activities carried out related to this agenda, on 29 April 2021 INDECI and CONIDA carried out their first webinar entitled: Use of Satellite Technologies in Disaster Risk Management Research. The webinar attracted more than 300 participants from Latin America and began with presentations by INDECI and CONIDA.  AmeriGEO and UN-SPIDER were invited to make presentations along with three UN-SPIDER Regional Support Offices including IGAC of Colombia, CONAE of Argentina, and UFSM of Brazil.   Participants took note of the efforts carried out by CONIDA to process satellite imagery from its PeruSAT-1 satellite and other satellites to maps the extent of disasters impacting various regions in Peru.  Participants also took note of the activities carried out by AmeriGEO, and the UN-SPIDER Regional Support Offices provided examples regarding the use of satellite imagery to contribute to disaster response efforts in case of floods, forest fires, volcanic eruptions, and other hazards.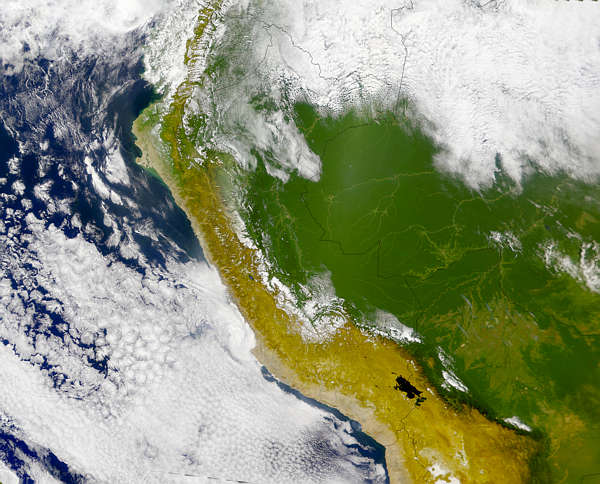 Satellite Image of Peru. Image: NASA.