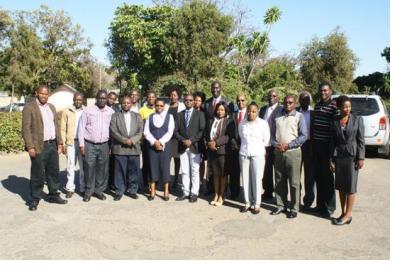 The Regional Centre for Mapping of Resources for Development (RCMRD), UN-SPIDER's Regional Support Office, conducted a flood forecasting training in Uganda from 7 to 10 July and a technical training to support the National Spatial Data Infrastructure (NSDI) in Zambia from 8 to 11 July.
During the flood forecasting training in Uganda, RCMRD collaborated with the Directorate of Water Resource Management from the Ministry of Water and Environment of Uganda and other stakeholders to develop and implement CREST (Coupled Routing and Excess Storage) in different areas in Uganda with the support of the SERVIR program.
The workshop addressed issues concerning requirements and implementation of the CREST model and how to empower stakeholders.
The technical training conducted in Zambia to support the National Spatial Data Infrastructure (NSDI), brought together representatives of 12 institutions including government ministries and departments, parastatals and academic institutions. The aim was to raise awareness about the role of NSDI and the importance of spatial data sharing tools such as ArcGIS Online data portal.
The participants, stakeholders in the implementation of NSDI in Zambia, were motivated to close the skills gap concerning NSDI and data sharing geoportals among the technical personnel of the different institutions.