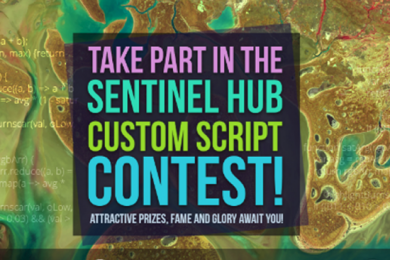 Sentinel Hub, together with the European Earth Observation programme Copernicus and the European Space Agency, are looking for new and innovative ideas and scripts for Sentinel data processing and visualization. The contest will run until 5 May 2019 and all the entries will be judged by a jury of experts on functionality and usefulness, as well as possible commercial value.
The EU Earth Observation Browser and similar services are made possible through open data policies, which allow everyone to access and use satellite data. Thanks to these policies a wide variety of fields are creating applications for satellite data, however, they need support to make use of the data for these applications. Custom scripts are an easy and quick way to add value to already available data and rapidly test new algorithms.
The Sentinel Hub Custom Script Contest is a remotely run hackathon engaging data scientists, remote sensing scientists, students (from high school to university), and the general public worldwide to produce and share interesting (and new) algorithms to process Earth observation data.
Applicants can hand in up to three different scripts by 5 May 2019, either as a single author or as a representative of a group, from the following categories:
– Agriculture and Forestry
– Marine environment
– Snow and Glaciers
– Disaster management and prevention (wildfires, floods, hurricanes, …)
– Air quality and Urban planning
– Other scripts (all not fitting into one of the other categories)
The prizes are:
First prize: 1.000 EUR + 1-year Enterprise Sentinel Hub account

Second prize: 300 EUR + 1-year Individual commercial Sentinel Hub account + some nice goodies

Third prize: 1-year Individual commercial Sentinel Hub account
The award ceremony for the contest will take place during the Living Planet Symposium in Milan, Italy. Among the other prizes, the best overall script will win a trip to the European Space Research Institute (ESRIN) in Rome sponsored by ESA, which includes travel and accommodation. They will also be given the opportunity to speak to experts in relevant fields and to see the Phi Experience, opening up exciting insights into modern Earth observation.