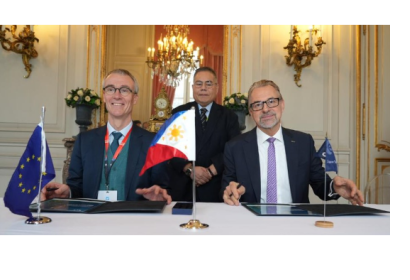 The first space cooperation agreement taking place in South-East Asia, the Copernicus Capacity Support Action Programme for the Philippines (CopPhil), launched this week, on 24 April 2023. The contribution agreement was signed by the European Commission and the European Space Agency, with the aim to build a national Copernicus data centre in the Philippines. With a budget of 10€ million funding from the EU bilateral development cooperation for the Philippines, the EU will support the uptake of Copernicus and its earth observation programme.
CopPhil will enhance the response capability and thus the resilience of the Philippines to natural and man-made disasters through the strategic use of space data. This will help reducing vulnerability of the people of the Philippines to climate hazards, support climate adaptation, food security, and environmental protection. The initiative is part of the new Global Gateway strategy of the European Union encouraging the advanced utilisation of Copernicus data and information services, which will promote better policy definition, improved planning, increased transparency, commitment and accountability.
The primary national partners for the CopPhil programme are the Department of Science and Technology of the government of the Philippines together with the Philippine Space Agency. Nevertheless, the Copernicus Programme offers free, full and open data access to everyone, enabling public authorities to act quickly and based on scientific information when it comes to emergency management or environmental protection and opening opportunities for the scientific community and the private sector alike.
This new collaboration takes place in the context of the EU Global Gateway Strategy, aiming at boosting smart, clean and secure links in digital, energy and transport sectors and to strengthen health, education and research systems across the world.
Main image: ESA and the European Commission sign the CopPhil initiative © ESA (Philippe Sebirot).