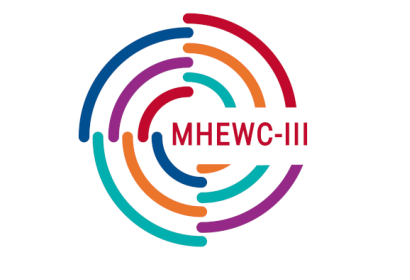 Nearly 750 participants representing international, regional, national, local organizations, and other stakeholders participated in the 3rd International Multi-Hazard Early Warning Conference, which was held in Bali, Indonesia, on 23 and 24 May 2022. The Conference was organized by the International Network on Multi-Hazard Early Warning Systems (IN-MHEWS) and other partners as a pre-event for the 2022 Session of the Global Platform for Disaster Risk Reduction.
In her opening remarks, Mrs. Mami Mizutori, Special Representative of the Secretary General of the United Nations and Head of UNDRR, noted that the world has seen an increased number of disasters in recent years due to climate change which has had a devastating toll on socio-economic conditions. She also noted that multi-hazard early warning systems are allowing institutions and communities to reduce the impacts of natural hazards, but that there are still gaps in coverage and availability of early warnings in the least developing countries and small island developing states.
Professor Petteri Taalas, the Secretary General of the World Meteorological Organization (WMO), commented that the conference provided a unique opportunity to take note of advances in Multi-Hazard Early Warning Systems (MHEWS). He made participants aware that the Secretary General of the United Nations recently requested WMO to ensure that within five years, every person on Earth is protected by an MHEWS.
Ms. Dwikorita Karnawati, Head of Indonesia's National Agency for Meteorology, Climatology and Geophysics (BMKG) welcomed all participants and reiterated that despite advances in MHEWS, there are limitations and constraints in the technical segments and in the social segments of MHEWS. She remarked that there is a need for collaborative resilience efforts to empower local governments, indigenous leaders and communities; and reiterated the need to include traditional or indigenous knowledge in MHEWS and requested stakeholders to more forward through solidarity actions with equal and shared responsibility.
The conference included several technical sessions and hands-on segments. Mr. Shirish Ravan of UN-SPIDER presented the views of the space community. He reminded participants that Earth observation provides spatial information to enhance the understanding of Earth systems and that there are nearly 50 years of satellite-based observations which could be used as baseline data to improve MHEWS. He made participants aware of the use of Earth observation by the International Centre for Mountain Development (ICIMOD) to monitor glacial lakes in case of outbursts. He also commented on the efforts by the space community to set up an early warning system to address Near-Earth Objects (NEOs) which, like COVID-19, can be considered as low-probability but high impact events.
During the conference, speakers, panelists, and the audience stressed the need for adequate hazard, exposure, vulnerability and impact data, and commented that modern Information Communications Technology (ICTs) offers opportunities to improve and tailor early warning data and services that can facilitate preventive and anticipatory action. They also stressed the need for effective, inclusive and gender-responsive early warning systems and actions. The accountability of Governments was also stressed, including sub-national/local governments to ensure access to people-centred early warning systems, keeping the need for co-ownership in mind and enabling anticipatory early action through impact forecasting.
The Conference allowed IN-MHEWS to take stock of progress in the implementation of the Sendai Framework. It also allowed participants to share knowledge, lessons learned, and emerging trends; and to identify several gaps and related needs and priorities.