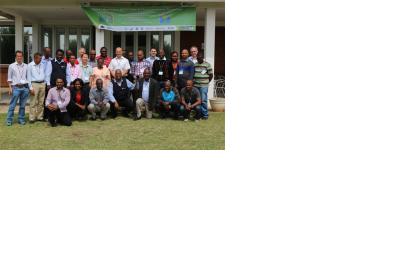 A UNOOSA/UN-SPIDER expert participated in the 4th meeting of the CEOS Working Group on Capacity Building and Data Democracy (WGCapD) from 18 to 20 March 2015 in Pretoria, South Africa. CEOS is the Commitee on Earth Observation Satellites. UNOOSA is an associate member of CEOS and an active participant in the Working Group.
The overall objective of the WGCapD is building capacity for the effective use of Earth Observation data as well as providing wider and easier access to those data. In its fourth meeting, the participants discussed issues such as the status of main projects and courses. A specific session was dedicated to the collaboration with GEO, the Group on Earth Observations. UNOOSA's Lorant Czaran presented the Offices's various capacity building activities including UN-SPIDER activities such as Technical Advisory Missions and training efforts. Find the complete agenda here.
The working group held a workshop on "Digital Elevation Models (DEMs) and Disaster Applications" back to back with the WGCapD meeting in Hartesbeeshoek, Gauteng, South Africa from 23 to 27 March 2015. It was hosted by the South African National Space Agency (SANSA). The workshop offered an opportunity to strengthen participants' knowledge of flood models, particularly TerraHYDRO and CREST, with practical exercises, and to aid them in utilizing the SRTM 30-meter digital elevation model, which was recently publicly released.
UNOOSA/UN-SPIDER was one of the sponsors of the workshop and funded six participants from southern African countries to attend the training. UNOOSA's expert made an introductory presentation on UN-SPIDER and also spoke about the importance of DEMs, the evolution in global DEM availability, their use in disaster management and for the United Nations and the United Nations Geographic Information Working Group (UNGIWG).