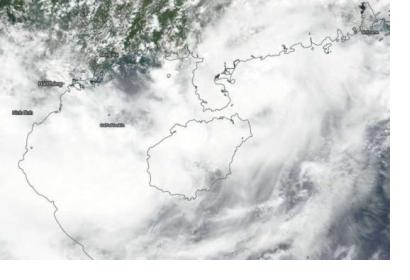 The United Nations Office for Outer Space Affairs (UNOOSA) has activated the International Charter "Space and Major Disasters" for Typhoon Bebinca in Viet Nam, which is expected to make landfall on 17 August. UNOOSA activated the Charter on behalf of the Vietnam Disaster Management Authority.
Meteorologists have forecasted wind speeds up to 90 kph and up to 300mm of rain in the coming days due to the typhoon, bringing the potential for severe flooding and landslides. More than 500,000 people, including soldiers, police officers and civilian volunteers, have been mobilized by Viet Nam's ministry of defence in order to help civilians in storm-affected areas. Border and coast guards from Quang Ninh down to Quang Binh Province have already ordered mass evacuations of those living in the coastal regions.
The Charter activation will aid disaster managers in Viet Nam to fully assess the impact of the typhoon and the extent of the floods, as well as helping to allocate resources and provide aid more effectively.
The International Water Management Institute (IWMI), a UN-SPIDER Regional Support Office, will act as project manager for the activation. The Viet Nam Disaster Management, Policy and Technology Centre, which is a close national partner of UN-SPIDER, is acting as a Value Added Provider.
UN-SPIDER conducted a Technical Advisory Mission (TAM) to Viet Nam in 2013. As a follow-up to the TAM, it organized a national workshop and simulation excercise in 2014, and a further workshop on "Improving Disaster Management and Emergency Response Using Space-Based Information" in 2015.
This activation comes as UN-SPIDER is about to conduct another follow-up mission to Viet Nam, during which it will also promote the Universal Access Initiative of the Charter with the goal of making national disaster management agencies aware of the initiative and supporting them in becoming Authorized Users of the Charter.
UNOOSA is a Cooperating Body of the Charter and can request its activation on behalf of United Nations organizations engaged in disaster response activities as well as of national disaster risk management (DRM) organizations, facilitating their access to satellite data.