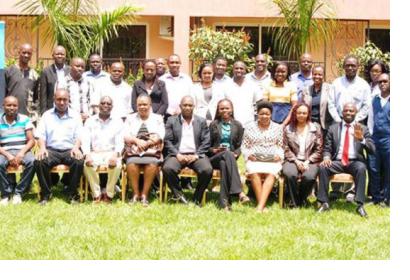 The Regional Centre for Mapping of Resources for Development (RCMRD), UN-SPIDER's Regional Support Office, held a workshop on Vulnerability Mapping in conjunction with USAID/East Africa's Planning for Resilience in East Africa through Policy, Adaptation, Research and Economic Development (PREPARED) Project between August 10 and 14 in Entebbe, Uganda. The participants came from the East African Community (EAC) member states: Kenya, Uganda, Tanzania, Burundi and Rwanda.
During the training, participants were able to learn how to create regional risk maps, identify each country's least and most vulnerable zones and infer the factors behind the mapping results. These vulnerability hotspot maps offer information about climate change effects in order to develop and support adaptation plans for communities, governments, and landscapes.
PREPARED has been actively collaborating with the East African Community Climate Change Technical Working Group and RCMRD is an implementing partner of the training project. This was the third workshop on risk mapping for the EAC member states.