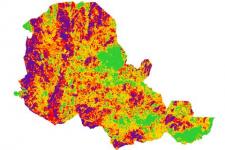 The purpose of this recommended practice is to assist in assessing post-fire burn severity. The methodology applied utilizes the Normalized Burn Ratio (NBR) in pre- and post-fire images; to evaluate the burn severity of the area.
Empedrado Commune, province of Talca, Maule region, Chile.


The town of Empedrado presents as a vast area of forests, mainly consisting of pine and eucalyptus trees. Empedrado is a third-level administrative division in central Chile, situated in the Maule region. In this region alone, nearly 4000 people had to evacuate due to the forest fires. At the beginning of February, the Chilean government ended the state of emergency that had been enacted in January 2017. Although forest fires are common during summers in Chile, the combination of a long-term drought, and historically high temperatures, ended up causing one of the worst wildfire seasons the country had ever experienced. The forest fires killed 11 people, caused approximately $333 million in damages, destroyed 1610 houses, and devastated many of the plantations in the area.
Burn severity data and maps can aid in developing emergency rehabilitation and restoration plans, post-fire. The proposed methodology is recommended for assessing the burn severity of large areas that are affected by wildfires. The burn severity can also be used to estimate soil burn severity and the likelihood of future downstream impacts due to flooding, landslides, and soil erosion.
Wildfires: Global Critical Issues
Loss of human life and property
Air pollution
Habitat loss
Hydrological regime changes and increased risk of landslides and floods
Increased frequency, duration, and severity due to fire suppression methods and climate change
Reference
Petropoulos, G. P., Griffiths, H. M., & Kalivas, D. P. (2014). Quantifying spatial and temporal vegetation recovery dynamics following a wildfire event in a Mediterranean landscape using EO data and GIS. Applied Geography, 50, 120–131.