Precipitation, soil moisture and snow data products (H-SAF - EUMETSAT)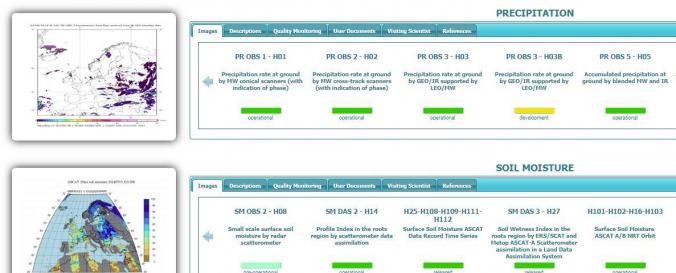 Data provided by:
European Organization for the Exploitation of Meteorological Satellites (EUMETSAT)
Data accessibility:
export data, export map, visualization of data (e.g. web GIS or real time monitoring)
Link to the data:
Requirements:

H-SAF makes products available to users for dowloading free of charge by mean of a secure FTP server.

File type:
gif, jpeg, png, wms
Data type:
hazard specific data
Hazard:
Drought, Mass Movement, Flood, Severe Storm
Disaster cycle phase:
Disaster Risk Management, Response, Recovery
Satellites and Sensors:
Aqua (AMSR-E), Aqua, DMSP 5D-2,-3 (SSM/I), DMSP 5D-3 (SSMIS), Meteosat-8 (SEVIRI), MetOp (AMSU-A), MetOp (ASCAT), MetOp-A, MetOp (MHS), NOAA-15, NOAA 15-17 (AMSU-A), NOAA 15-17 (AMSU-B), NOAA-18, Terra
Spatial coverage:
Global
Spatial resolution:
25.00
Temporal coverage:
Archive, Near-real time
Content dates:
2012-today
Technical Specifications:
Technical Specifications:
Scientific papers list
Costs:
free
Contact:
H-SAF Contact
Tutorials on the use of data:
Satellite Application Facility on Support to Operational Hydrology and Water Management , Hydrology SAF Component Requirement Document
Restrictions/ Citation of the dataset:

Download of H-SAF Soil Moisture Data is free of charge after registration

Disclaimer

All intellectual property rights of H-SAF products belong to EUMETSAT. The use of these products is granted to every interested user, free of charge. if you wish to use these products EUMETSAT's copyright credit must be shown by displaying the words "copyright (year) EUMETSAT" on each of the products used.