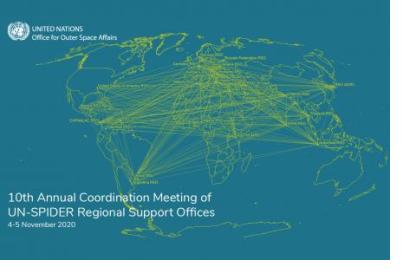 Wed, 4 Nov - Thu, 5 Nov 2020
In its resolution 61/110 the General Assembly agreed that the United Nations Platform for Spacebased Information for Disaster Management and Emergency Response (UN-SPIDER) should work closely with regional and national centres of expertise in the use of space technology in disaster management to form a network of regional support offices for implementing the activities of the programme in their respective regions in a coordinated manner and to take advantage of the important experience and capabilities being offered, and to be offered, by Member States, particularly by developing countries.
The UN-SPIDER programme has 25 Regional Support Offices (RSOs) spread over different regions, with two new RSOs integrated in the network in 2020: The Federal University of Santa Maria in Brazil and the Ben Gurion University of the Negev in Israel. RSOs are engaged in supporting activities of UN-SPIDER such as technical advisory support, rapid mapping during emergency response, preparing specific publications and contents for the knowledge portal and contributing to workshops and conferences.
The virtual meeting was held on two days with meetings of two hours each. The meeting served to exchange on the status of recent activities of RSOs, their contributions to UNSPIDER in recent years, initiatives started in 2020, possible contribution from RSOs and discuss new proposals/projects and ways to cooperate.
The objectives of the meeting were to:
Share lessons learned of the way to work on SPIDER activities in the new global pandemic situation; the use of webinars, online meetings, remote advisory work, etc.
Share SPIDER related plans for next year/years
Have discussion on topics proposed by the group that can enhance the SPIDER programme and the RSO network.
| Presenter | Presentation |
| --- | --- |
| Mr. Muhammad Farooq, Space and Upper Atmosphere Research Commission (SUPARCO), Pakistan | SUPARCO- RSO in Pakistan |
| Mr. Radu Botez, UNOOSA/UN-SPIDER | UN-SPIDER Knowledge Portal Trends |
| Mr. Godstime James, National Space Research and Development Agency (NASRDA), Nigeria | NASRDA - RSO in Nigeria |
| Mr. Klaus Greve, Centre for Remote Sensing of Land Surfaces (ZFL), University of Bonn, Germany | ZFL, University of Bonn - RSO in Germany |
| Mr. Talbot Brooks, Center for Interdisciplinary Geospatial Information Technologies (GIT), Delta State University, United States of America | GIT, Delta State University - RSO in USA |
| Mr. Juan Carlos Villagran, UNOOSA/UN-SPIDER | UN-SPIDER activities in Africa and Latin America |
| Mr. Radu Botez, UNOOSA/UN-SPIDER | Mapping RSO expertise |
| Mr. Peeranan Towashiraporn, Asian Disaster Preparedness Center (ADPC), Thailand | ADPC in Thailand |
| Ms. Shimrit Maman, Earth and Planetary Image Facility (EPIF), Ben-Gurion University of the Negev, Israel | EPIF, Ben-Gurion University - RSO in Israel |
| Mr. Denis Macharia, Regional Center for Mapping of Resources for Development (RCMRD), Kenya | RCMRD - RSO in Kenya |
| Mr. Birendra Bajracharya, International Centre for Integrated Mountain Development (ICIMOD), Nepal | ICIMOD in Nepal |
| Mr. Carlos Andrés Franco Prieto, Geographic Institute Agustin Codazzi (IGAC), Colombia | IGAC - RSO in Colombia |
| Mr. Rokhis Khomarudin, National Institute of Aeronautics and Space (LAPAN), Indonesia | LAPAN - RSO in Indonesia |