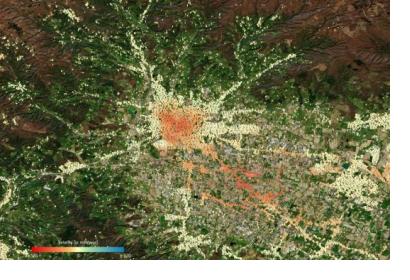 The lowering or sinking of the ground's surface, referred to as land subsidence, can cause serious damage to infrastructure and private property, and in turn, have an adverse impact on communities, individuals, and the economy. The European Space Agency's (ESA) Sentinel-1 satellite, part of the Copernicus programme, is being used to monitor cases of land subsidence and contribute to risk assessment and urban development efforts.
From Sentinel-1 radar data collected over time, ground deformation maps can be created, which provide important insights to local authorities charged with implementing hazard mitigation and management strategies. For example, such maps recently helped authorities in the Tuscany area of Italy, which is home to several cities affected by land subsidence. Maps created from Sentinel-1 data were used to analyse a single geographic point in Tuscany over previous years, track ground displacement and identify unstable areas.
Sentinel-1's C-band synthetic aperture radar (SAR) instrument allows it to capture images of the Earth's surface at centimetre precision, day and night and in all weather conditions, allowing for a consistent and accurate depiction of geographic areas over time. This provides an advantage over conventional land subsidence tracking strategies, such as repeat optical levelling and groundwater monitoring, which are not favourable for conducting long-term surface analysis.
Tuscany's land subsidence monitoring project using this Sentinel-1 data was a collaborative effort. According to ESA, "the project was driven by the University of Florence, representing the Italian Civil Protection Department, the Regional Government of Tuscany and TRE ALTAMIRA, a company which provides displacement measurements and mapping solutions from satellite radar data at a global level."
Alessandro Ferretti, CEO of TRE ALTAMIRA, emphasized how the project has not only helped Italy, but has also improved the application of satellite radar data overall. He stated, "Thanks to Copernicus Sentinel-1, the SAR industry paradigm has definitely changed from 'mapping' to 'monitoring.' Tuscany is the first region in Italy to benefit from this."
A comprehensive scientific description of the project and its impact can be found here.