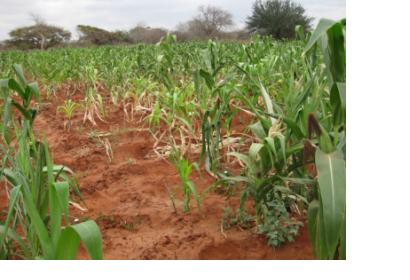 A variety of environmental and man-made factors can have a detrimental effect on the yield of farmers worldwide. A programme launched in Kenya, funded by SERVIR in collaboration with NASA Harvest and the Swiss Re Foundation, uses Earth observation (EO) data to assess crop damage and prioritise the mobilisation of financial aid to farmers.
SERVIR is a joint initiative by the U.S. Agency for International Development (USAID) and NASA's Earth Applied Sciences Program that works with "leading regional organizations world-wide to help developing countries use information provided by Earth observing satellites and geospatial technologies for managing climate risks and land use". SERVIR both provides access to EO data and offers capacity-building activities such as trainings to strengthen the use of EO data in decision-making efforts. Its work focuses on developing countries in Eastern and Southern Africa, West Africa, the Hindu-Kush region of the Himalayas, the lower Mekong River Basin in Southeast Asia and the Amazon region of South America. On site, SERVIR is supported by its regional offices. More information on SERVIR can be found here.
In Kenya, SERVIR helps local crop insurance programmes reach the right farmers. A NASA Earth Applied Sciences Team, working alongside colleagues at SERVIR's regional office for Eastern and Southern Africa, the Regional Center for Mapping of Resources for Development (RCMRD) in Kenya, created maps utilising EO data of farmland to better evaluate crop damage. This information helps employees of the local crop insurance programmes in their ability to assess where funding is needed the most. According to estimates, this development has helped the programme tremendously increase its efficiency and outreach over the years. In 2019, the programme reached 425,000 farmers in Kenya, an increase of more than 1,300% since 2015.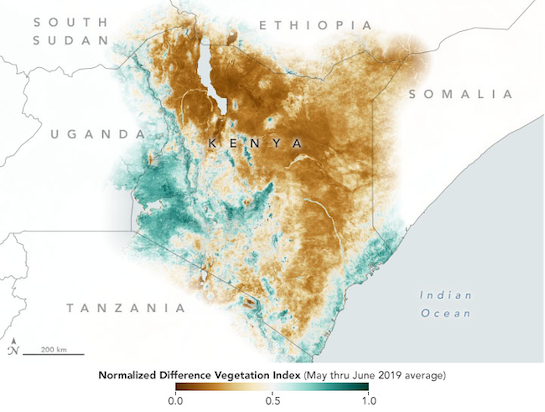 The map above shows the Normalized Difference Vegetation Index (NDVI) for ground cover in Kenya. The colors indicate the vegetation in certain areas as observed by NASA's Terra and Aqua satellites at different time intervals. This information on the state of vegetation is captured by optical satellite sensors that measure the solar radiation reflected from targets on the ground. The different colors on the map indicate the health of vegetation in a certain area. More information on NDVI and other vegetation indices can be found here.
The health of vegetation indicates the magnitude of environmental hazards and man-made disasters on farmland worldwide. This data is crucial for disaster management efforts. In the case of Kenya, EO data of farmland supports the recovery phase of the disaster management cycle: it improves understanding on crop damage and helps local crop insurance programmes reach the right farmers.