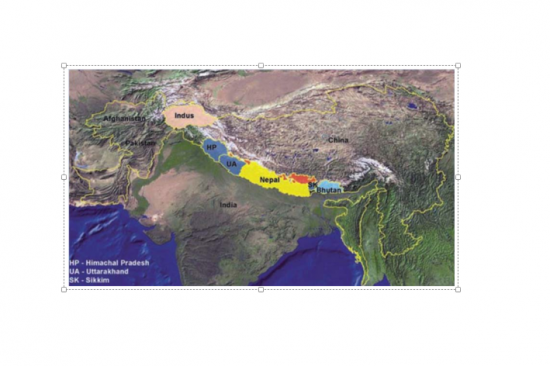 The identification of critical glacial lakes is based on remote sensing
method in which several criteria related to glacial lakes, glaciers and physical condition of surrounding area is considered to assess potential for future outburst and possible glacial lake outburst flood (GLOF).
Application field:
Visual observation and mapping of glacial lakes and associated glaciers along with physical features in the vicinity using Landsat data
series provides vital information to identify critical glacial lakes with potential for an outburst in future. This allows early identification of potential hazard
and makes a timely investment on risk management interventions including outburst mitigation
options.
Methodology:
Evolution of glacial lake is studied using time series Landsat
data
which in conjunction with other factors like size of mother
glacier
and proximity to, type of glacial lake, moraine condition, and physical condition of lake surrounding, the criticality of the glacial lake is assessed. Criteria for identifying critical glacial lake is presented in Ives et al., 2010. Ives, JD; Shrestha, RB; Mool, PK (2010) Formation of glacial lakes in the Hindu Kush- Himalayas and GLOF risk assessment. Kathmandu: ICIMOD.   The reference is available at: http
s://w
ww
.unisd
r
.or
g
/we/inform/publications/14048
Key results:
There are over 200 critical glacial lakes in the Hindu Kush Himalayan region some of which are monitored regularly using remote sensing
and occasionally in the field
Impact:
Publications:
Mool, P.K.; Bajracharya, S.R.; Joshi, S.P. (2001) Inventory of Glaciers, Glacial Lakes, and Glacial Lake Outburst Flood Monitoring and Early Warning Systems in the Hindu Kush Himalayan Region – Nepal. Kathmandu: ICIMOD
Mool, P.K.; Bajracharya, S.R.; Joshi, S.P. (2001) Inventory of Glaciers, Glacial Lakes, and Glacial Lake Outburst Flood Monitoring and Early Warning Systems in the Hindu Kush Himalayan Region – Bhutan. Kathmandu: ICIMOD
Website URL: